Solutions: Pasta Salad Recipes
Read and rate the best solutions below by giving them a "thumbs up".
The flavor and juiciness of rotisserie chicken makes this pasta salad a hit with me. You can serve this dish immediately or refrigerate to allow the flavors to blend more and serve cold. Either way it's yummy :-)
Ingredients:
1 lb penne pasta
1/4 cup red wine vinegar
1/4 cup extra virgin olive oil
2 tsp crushed garlic
Zest of 1 medium fresh lemon
1/2 cup fresh basil leaves, julienned
Salt and pepper to taste
2 1/2 cups cooked rotisserie chicken, shredded
1 pint grape tomatoes, halved
1/2 medium red onion, halved and sliced
5 oz mozzarella, cut into 1/2 cubes
Directions:
Cook penne al dente according to package instructions, drain and set aside to cool.
Whisk together the vinegar, olive oil, garlic, lemon zest, basil, salt and pepper in a small bowl.
Combine pasta, chicken, tomato, onion and mozzarella in a large serving bowl, toss well, evenly coat with vinaigrette, toss again and serve.
By Deeli from Richland, WA
This salad tastes great switching the Parmesan cheese with crumbled feta too!
Ingredients:
1 lb. rotini
1 lb. asparagus, trimmed and cut into bite sized pieces
1/4 cup fresh lemon juice
1/4 cup extra virgin olive oil
1/4 cup fresh dill leaves, chopped
2 Tbsp. Dijon mustard
1/2 tsp. minced garlic
salt and pepper to taste
1 pint cherry tomatoes, halved
3/4 cup (6 oz.) fresh Parmesan, finely shredded
Directions:
Cook rotini al dente according to package directions, drain and set aside.
Blanch asparagus until slightly tender, about 2 to 3 minutes, give immediate ice bath, drain and lay out on a towel to remove excess moisture.
Whisk together the lemon juice, olive oil, dill, mustard and garlic in a small bowl and season with salt and pepper.
Toss asparagus, tomatoes and pasta in a large bowl, add Parmesan and dressing, gently toss to coat, cover and refrigerate for at least one hour to let flavors meld.
By Deeli from Richland, WA
I love bean salad and pasta salad, so I decided to create a salad that is the best of both!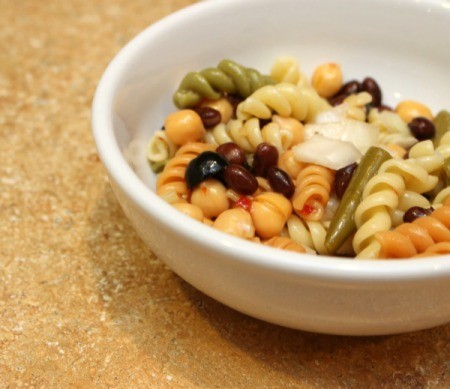 Ingredients:
1 (15 oz.) can black beans, rinsed and drained
1 can garbonzo beans, rinsed and drained
1 can green beans, drained
1 small can sliced olives, drained
8 oz. cooked pasta
1- 1 1/2 cup Italian dressing
1/2 cup onion, diced
Steps:
Cook pasta according to package directions. Drain and rinse with cold water. Set aside.
Place drained and rinsed beans into a large bowl.
Add pasta, stir to combine.
Add onions.
Add dressing and mix well. Refrigerate and serve chilled.
By lalala...
Ingredients
Salad
8 oz. medium pasta shells, uncooked
2 cup shredded cooked chicken breast
1 bunch green onions, sliced diagonally
2 cucumbers, peeled, seeded and chopped
1/2 cup sliced pitted ripe olives
Dressing
1 cup sour cream
1/2 cup mayonnaise
1/3 cup snipped fresh dill or 1 Tbsp. dill weed
1/14 tsp. salt
pepper to taste
Directions
For salad, cook pasta according to package directions; drain and rinse under cold water. In salad bowl, combine all salad ingredients; set aside. For dressing, whisk all dressing ingredients in small bowl. Add dressing to salad; toss. Adjust seasoning as needed.
By Robin from Washington, IA
When you make pasta (mac, etc.), save 3 or more cups of it. Rinse it and put in the fridge for pasta salad the next day.

Source: Me cooking too much pasta again!

By Natalie from Windsor, Ontario, Candada
A colorful salad, a little different, and fairly calorie wise.
Ingredients:
1 cup rotini pasta cooked, drained, and rinsed under cold water
2 cups fresh mushrooms washed and halved
1 cup cherry tomatoes, halved
1/2 cup green onion slices
1/2 to 3/4 cup Italian dressing
Directions:
Combine ingredients and chill until serving.
Servings:
4
Time:
15 Minutes Preparation Time
0 Minutes Cooking Time
Source: My daughter gave me this.
By Mother of 5 from Nova Scotia
Share Your Feedback:
Once you try any of the above solutions, be sure to come back and give a "thumbs up" to the solution that worked the best for you. Do you have a better solution? Click "Share a Solution" above!
Questions
Here are questions related to Pasta Salad Recipes.
Cold Pasta Salad Recipes Without Meat
I am looking for some great meatless, cold pasta salads. I am not looking for exotic recipes. I would like ones that are simply made, like the ones our mothers and grandmothers made. I sure would love to hear from you. Thank you and God Bless.
By angelheart from Clyde, TX
---
Most Recent Answer

By patg
07/06/2009
My family makes one these is it
1 package tri color noodels
1 red onion thinly sliced
2 carrot sliced small
1 red pepper cut small
1 can baby corn cut into 1/3
prepare marinade sauce
4 teespoon hot water
1 teaspoon salt
shake garlic powder
1/2 cup sugar
1/4 cup oil
1/4 cup vinegar
mix togther pour ovrer noodels
served chilled