Stir fried vegetables are great when cooked to perfection, seasoned correctly, and served over rice. This page contains stir fry vegetable recipes.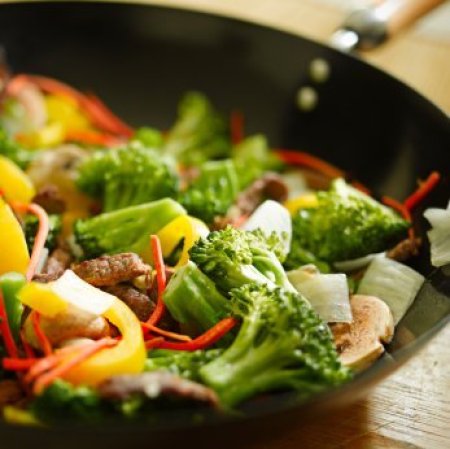 If you use low sodium soy sauce, you might want to season to taste with a tad bit of salt just after adding the sesame oil.
Ingredients:
1 Tbsp. extra virgin olive oil
1 small onion, thinly sliced
1 Tbsp. minced garlic
1 small head cabbage, trimmed and sliced
2 Tbsp, soy sauce
1 Tbsp, rice vinegar
sesame oil to taste
Directions:
Heat the oil in a wok or large skillet over medium heat. Add onions and saute until softened and translucent. Stir in garlic and saute for one minute. Stir in half of the cabbage and saute until it is barely beginning to wilt then stir in the rest of the cabbage and continue to saute until barely beginning to wilt.
Add soy sauce and vinegar and cook until cabbage has wilted to taste, remove from heat, add sesame oil to taste and serve.
By Deeli from Richland, WA
This dish is nice to eat with lamb, ham, fish or even chicken.
Ingredients
1 lb fresh sugar snap peas
2 tsp. of canola oil
1 minced garlic clove
2 tsp. minced fresh gingerroot
1 1/2 tsp. balsamic vinegar
1 1/2 tsp. reduced sodium soy sauce
1 tsp. sesame oil
Dash of cayenne pepper
1 Tbsp. minced fresh basil or 1 teaspoon dried basil.
2 tsp. sesame seeds, toasted
Directions
In a large skillet or wok, saute peas in canola oil until crisp-tender. Add garlic, ginger, vinegar, soy sauce, sesame oil and cayenne; saute 1 minute longer. Add basil; toss to combine. Sprinkle with sesame seeds.
Source: A friend, Jean.
By Raymonde from North Bay, Ontario
By Cornelia 45 72
A flavorful vegetarian dish with lots of variety and satisfying mix. Excellent for special diet needs.

This makes 1 medium sized meal. Just double everything for 2 people, quadruple the recipe for 4 people, and so on. Or divide it in half per serving if making it as a side dish.
Ingredients:
1/2-whole sliced medium onion
2-3 thinly sliced medium mushrooms
1/3 bag mixed vegetables (I used frozen Mediteranian mix because it's winter, but fresh is better)
a couple Tbsp. Mrs. Dash's no sodium Garlic dressing (or make your own)
crumbled sharp chedder Vegan cheese (I used very little due to salt and protein sensitivity).
fresh ground pepper to taste
several Tbsp. of virgin olive oil
To make this for anyone without diet needs, add chicken or pork to the mix, use standard cheese or even croutons if you choose.
Directions:
This can be cooked several ways. I used a "baby" electric frying pan, sauteed the onions lightly then added the mushrooms and lightly sauteed them. I added the frozen vegetables and defrosted them with a lid on the pan. I then added the garlic dressing. Just a few minutes before finishing cooking, added the pepper. When the veggies were on the plate, I added the crumbled cheese.
Play with this, there's a lot of variables, including the amount of Mrs. Dash/dressing, the mix of veggies, the cheese, etc.
It makes a tasty meal that almost makes up for not being able to eat a regular diet. I suggest a slice of salt free bread with it or croutons (preferably home made from the salt free bread).
Servings:
1 meal, so double or quadruple
Cooking Time:
15-20 Minutes
Source: I threw it together in desperation after a violent reaction to sodium and maybe protein as well. I've been told I have failing kidneys, and sodium and protein gives me night cramps and affects RLS.
By Cornelia from OR
By Robin 5,893 29
Ingredients
1/2 bunch broccoli
1 medium head romaine lettuce
4 slices bacon
1 tsp. salt
1 tsp. sugar
1/4 cup water
Directions
About 20 minutes before serving, remove any large leaves from broccoli and trim ends if stalks are tough or woody and cut into 2x1/2 inch pieces. Tear romaine into bite size pieces; set aside. In pan over medium heat, fry bacon slices, diced, just until crisp. Add broccoli, stir quickly and frequently (stir-fry) until pieces are coated with bacon drippings. Add water, cover and cook 4 minutes. Uncover and add romaine, salt and sugar. Stir-fry 3 minutes more or until vegetables are tender crisp. Serves 6.
By Connie 362
Ingredients:
4 fresh asparagus spears trimmed and cut into 1-inch pieces
1 cup fresh snow peas, trimmed
1 Tbsp. butter
2 Tbsp. olive oil
2 tsp. minced fresh gingerroot
1/4 tsp. garlic powder
2 Tbsp. soy sauce
1 tsp. water
Directions:
In a small skillet, stir fry asparagus and peas in butter and oil for 2 minutes. Add ginger and garlic powder; stir-fry 1 minutes longer. Combine soy sauce and water; stir into skillet. Cook for 1 to 2 minutes or until vegetables are tender. Makes 2 servings.
By Connie from Cotter, AR
I found a recipe for tofu stir fry. It's delicious, no matter what veggies you want to use
Ingredients
1/2 cup broth (any kind, I use fat free)
1 Tbsp. soy sauce
2 tsp. cornstarch
1 tsp. sugar
1/4 tsp. red pepper flakes
10 1/2 oz. tofu
2 1/2 oz. cashews (or different kinds, or not at all)
5 green onions, green parts and white parts separated)
any veggies, asparagus, broccoli, zucchini, green beans, tomatoes
Directions
Stir fry veggies in oil, with the white parts of green onion for one minute. Add all but 1 Tbsp of of broth. Reduce heat and simmer for a few minutes. Mix remaining broth, red pepper, soy sauce, and cornstarch in a small bowl. Pour mixture over veggies and simmer until sauce thickens. Add tofu, green part of onions, and nuts (optional). Simmer for about 2 minutes or until tofu darkens from the sauce.
Serve with rice, brown rice, or Thai noodles.
By Monat96