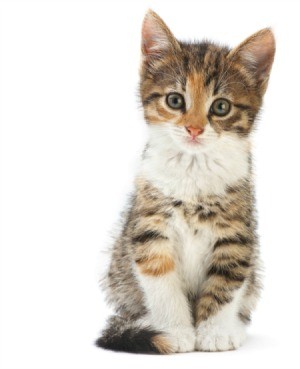 Some pet ailments can safely be treated at home whereas others need to be referred to a vet to determine the cause and proper treatment. This is a guide about treating a kitten with eye discharge.
Solutions
Share a solution for this guide today!
Questions
Here are questions related to Treating a Kitten with Eye Discharge.
My cat had kittens 2 weeks ago. One of the four has cold in their eye. I have tried using warm milk and it didn't work.
Any suggestions?
By Sam J
By
---
Most Recent Answer

By cybergrannie04/09/2013
Hello,
Kittens are so nice to have around!
I know how difficult it can be to take our animals to the vet unless we feel sure it is very necessary.
I can remember having to learn when to take a child to the doctor and when to try old fashioned remedies.

I have found that kittens are sometimes prone to having a yellow discharge from their eyes that may not be serious.
. I always mixed a small amount of Epson salt or just regular salt in a cup of hot water (Sea salt is really good also).
Let the water warm! and then dip a small cotton square or a very clean piece of WHITE cloth in the warm water and DAB it gently on the kittens eyes (both eyes). Be very gentle. Don't worry if you do not remove all of the yellow gunk. Just be sure to use a clean area of the pad each time so that you do not spread the infection.
Throw all used material away.

You will have to do this several times a day for 2 or 3 days and then slack off to maybe 2 times a day until the yellow does not come back. Just be sure to make fresh salt water and use only clean pads.
This may take time so be patient. This may be contagious so keep an eye on the other kittens.

You could also Google this question and see what others suggest.

This always worked for me but if there is no improvement then it would be best to try and take them to the vet.

Animals are precious and I am glad you are trying to find help.
I just found a kitten outside, it looks like it was an outside kitten with other kittens around. I have never owned a cat before! She looks to be very young, when I brought her home I noticed a little bit of green drainage coming out of her left eye, it's two days later after bringing her home and she still has it. Also, this morning she vomited up what looked to be her kitty food on the floor. I have no money right this minute to take her to the vet. I also have a one year old child that has been around her. Is this bad for her? Also, not sure what to do about the kitty. Please help!

Cheri from USA
By
---
Most Recent Answer

By imnotthemomma08/26/2008
this is not uncommon with new kitties under 6 weeks. Warm towel washings several times a day. If the kittie developes diarreha contact me at drgonldytx56 AT yahoo.com for a NATURAL cure i use and now my vet is using regularly for all their easy cases and HARD CORE cases. Fleas - dawn dishwashing liquid, sock over head to protect it. if that does not work sock tied behind front legs will help keep it calm also. eye treatments may require calling a local vet or two for a consensus. just tell them you are without funds. 4 weeks old DO NOT GIVE IT FOOD YET. get some KMR kitten milk formula should be on it for another 4 weeks especially if it is having vomitting issues. It is throwing up due to stomach not handling food just yet. then start with one tsp soft food to 1-2 tsp formula every two days decreasing milk/food ration 1.5 tsp to 1T formula minus .5 tsp etc. Like giving your baby chili. At 4 weeks bladder and bowel control should be working or on the verge so you dont have to wipe them to stimulate them. If you are being forced to take kitten to litter box before and after every meal and stimulate them there. I will check with my vet for green drainage problem and give you a further update. if not treated the kitten WILL loose the eye. But dont be afraid it can be taken care of easy.
One of my kitten's eyes are matted shut. I use a warm compress and get them open. I had used a Q-tip with just a touch of Vaseline and put around the eye so it wouldn't get sore, but it does mat again after a few hours when he sleeps. Is there anything I can do for him? I figure he's gotten a little cold in it. He is not sneezing.
By shirley from clayton, in
By
---
Most Recent Answer

By Thenicholas304/16/2013
Kittens often get an infection in their eyes and unfortunately you need medicine to clear it up. It is also very contagious to the other kittens. If you have a relationship with a vet, they will often give you the meds without an office visit since it is so very common.
Anyone know of a natural or home product for baby kitty eyes? We have an eight week old with nasty eyes. Thanks for any info.
By Linda L.
By
My 3 week old kittens have something wrong with their eyes. They keep closing up with crust.

Jeanine from Barnegat, NJ
By
---
Most Recent Answer

By airbrenda08/31/2010
My cat has eyelashes on her inner eyelids which scratch her eyes and cause them to cloud over and become infected--the vet sold me a tiny tube of Butler Neo-Poly-Bac, a triple antibiotic, for $28. I noticed Neosporin has the same ingredients but a few extra, like cottonseed oil, that seems to me might burn in the eyes, but the Walmart brand triple-antibotic "Equate" has the exact same ingredients as the Butler without the extras and you can get a huge tube for $2.57. I haven't tried it yet, but, y'know, if it works, geez, what a frickin' waste of money.
I have recently came across 2 male kittens approximately 8 weeks old. One has a little discharge and closure to the eye. He has no foul smell, nor does he seem to be sneezing or coughing. What can I do to help the kitten?
I am not working, so I do not have the money to take it to the vet. Can someone give me suggestions? I want to be able to take care of him. He is very sweet.
By Stormie0122 from New Kensington, PA
By
---
Most Recent Answer

By Jeobe80809/30/2010
I want to thank everyone who posted. Because of you my baby kitten I recently adopted is recovering. I read this post yesterday and used antibiotic ointment and flushed with warm water first. Worked so wonderfully. My little guy's name is Nacho. I can not believe how effective it is. Mahalo. Nui Loa
A kitten found me. She must have known she needed help because she has not been handled by any humans. She just meowed her little heart out until I found her, scared and shivering, next to a chain link fence in my neighborhood. She looks completely blind in her left eye, it has the milky white look. It is also red like it's infected and she still has discharge coming from it as well. I've tried to get a better look, but she's still too skittish. I really can't afford a vet and am too scared to give her to the SPCA; it would break my heart if they put her down because they couldn't find her a home. I am positive she will not see out of this eye. Is there anything I can do at home to treat her or try to see if a vet will help me since it is a stray I am willing to keep? Besides her eye, she seems in good health.
By Brittney H.
By
---
Most Recent Answer

By FARSTAR10/18/2013
As you can not catch her you can't help her. Call your local VETERINARIAN and explain the problem. They are not "heartless" people. Good luck.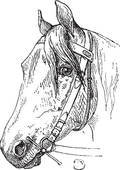 I found an 8 week old kitten and his eye is slightly watery. It looks like a clear tear drop falling down. What should I do? Is it serious?
By Kelli
By
I have found 4 very young kittens that have crusty eyes (nearly closed from the gunk). I think the irritation is from gnats, as there are a lot swarming. Can someone help me to treat their eyes? They are not mine and I can't afford a vet, but don't want to see them suffering.
By Nelwyn from Bunkie, LA
By
---
Most Recent Answer

By Lizzyanny05/06/2010
Terramycin eye ointment is available from valleyvet.com (click on cats) It costs about $11.00. Good luck.
How do I fix or remedy the infection in my cat's eye?

By Michael from Truth or Consequences, NM
By
---
Most Recent Answer

By K9cats07/04/2013
Hello...
Your cat could possibly have an eye infection that needs to be treated by a Veterinarian and be put on antibiotics. As you know an eye infection can be painful and needs to be treated by a professional. Please take your fur baby to his/her Veterinarian
I found a mother cat and her kittens outside under my step and they are 13 days old. One kitten has a green mucous type discharge coming out of one eye and it can't open the other eye because it is all crusty, do I need to take it to the vet?
By Pam D
By
---
Most Recent Answer

By profile.php?id=133750164504/12/2013
All we ever did with our kittens was to gently wipe their eyes off with a warm washcloth. No soap. Just keep them wiped clean.
I have three kittens which are about 6 weeks old, there is pus in their eyes, and each time they sleep, they stick shut. I put a warm compress on them to open their eyes, but it does not help much. I just don't know what happened to their eyes. I've had kittens before with cold in their eyes, and treatment took care of them. I don't know what to do for these poor babies.
By Jacqueline
By
---
Most Recent Answer

By robynfederspiel09/17/2013
Here is the link for the vetricyn opth. gel

http://www.amazon.com/Vetericyn-BC0 ... acr_txt?ie=UTF8&showViewpoints=1

It is really awesome!
Last night I adopted a kitten from a feral cat's litter. He looks about 4 weeks old and the people who have been feeding them say he has always had a discharge in his eyes that they wipe away each day. They thought it was allergies, but I recognize it as an infection. Is Bacitracin 500u okay to use on a kitten with white eye discharge?

By k
By
---
Most Recent Answer

By K9cats07/06/2011
Hello,
Please see a Veterinarian ASAP. A kitten with an eye infection can have other things going on. Please do not ever give she/he any medication unless you talk to a Veterinarian.