I'm looking for help with my cat's eye problem. He is a 5 months old, a little troublemaker, and every now and then his eyes start to discharge some stretchy, milky white goo that looks like mucus. If I don't clean them the goo starts to cover his eyeballs. Prior to this there's usually some tears from his eyes, and followed by an infection.
We've seen the vet several times in the past months, and he said that something is irritating my kitten's eyes, he tries to clean it with his paws and there comes the infection. Antibiotics cure it, but it's always coming back, so the vet said the infection is a result, not a cause of this discharge.
I've tried to eliminate every factor that could irritate his eyes like cigarette smoke and dust, but the goo is still coming sometimes. We got some eyedrops with mild steroids in it to ease the itching and it seems to work, but I'm a little worried about all this medication. My kitten looks good, have an apetite, and is as playful as ever, but the problem is still present.
So my question is, have any of you ever encountered this kind of a problem, or any idea what causes this discharge?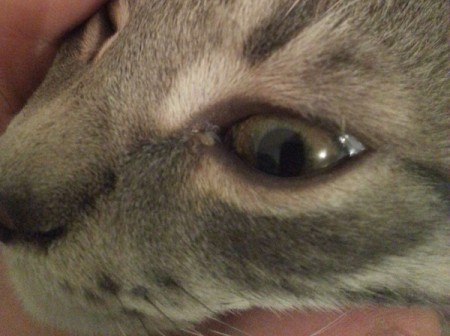 January 3, 2016
1

found this helpful
01/03/2016 Flag
A vet approved anti-biotic should help cure the infection in the eyes. As a seasoned cat rescuer, I'd say it's likely that your kitty is allergic to his litter. Many litters on the market have harsh perfumes and dust that trigger allergies in the eyes, nasal passages, and lungs. I would recommend that you make a change to a dust-free and fragrance-free product (baking soda added helps with the smells) for his litter boxes. Vacuum and clean around his litter area daily to keep down the dust. We solved this eye problem in our Rescue kitties, by changing the type of litter, brushing and combing our kitties daily, and cleansing the inflamed eye area with a Vet-approved eye solution. His pet beds should have washable linings .... we line our cat beds with old quilted placemats that we launder weekly.
We also feed our cats a chicken-based wet and kibble food (treats caused them to vomit) and we use only stainless steel or Pyrex bowls, as plastic ones scratch and are toxic, causing inflamation around the eyes and mouth. Glad you have a vet that's monitoring his eye health. Good Luck!