Vegetable Stir Fry Recipes
Recipes
Share on ThriftyFunCheck out these recipes. If you have made this recipe please submit a photo and let us know how it worked. Or, add your own recipe variation.
May 5, 2011
5

found this helpful
If you use low sodium soy sauce, you might want to season to taste with a tad bit of salt just after adding the sesame oil.
Ingredients:
1 Tbsp. extra virgin olive oil
1 small onion, thinly sliced
1 Tbsp. minced garlic
1 small head cabbage, trimmed and sliced
2 Tbsp, soy sauce
1 Tbsp, rice vinegar
sesame oil to taste
Directions:
Heat the oil in a wok or large skillet over medium heat. Add onions and saute until softened and translucent. Stir in garlic and saute for one minute. Stir in half of the cabbage and saute until it is barely beginning to wilt then stir in the rest of the cabbage and continue to saute until barely beginning to wilt.
Add soy sauce and vinegar and cook until cabbage has wilted to taste, remove from heat, add sesame oil to taste and serve.
By Ann from Richland, WA
January 15, 2012
1

found this helpful
Ingredients:
1 Tbsp. extra virgin olive oil
1/2 red onion, chopped
1 tsp. minced garlic, or more to taste
1 lb. green beans, trimmed and cut into thirds
1/4 cup soy sauce
1/4 cup water
1 medium tomato, diced
Salt and pepper, to taste
Directions:
Heat oil in a wok or skillet over medium heat; add onion and garlic and cook, while stirring, until onions are softened. Add the green beans and soy sauce, stir and simmer 2 minutes.
Add water and continue to simmer until green beans are tender, about 10 minutes. Stir in tomato, season with salt and pepper to taste and serve.
By Ann from Richland, WA
This dish is nice to eat with lamb, ham, fish or even chicken.
Ingredients
1 lb fresh sugar snap peas
2 tsp. of canola oil
1 minced garlic clove
2 tsp. minced fresh gingerroot
1 1/2 tsp. balsamic vinegar
1 1/2 tsp. reduced sodium soy sauce
1 tsp. sesame oil
Dash of cayenne pepper
1 Tbsp. minced fresh basil or 1 teaspoon dried basil.
2 tsp. sesame seeds, toasted
Directions
In a large skillet or wok, saute peas in canola oil until crisp-tender. Add garlic, ginger, vinegar, soy sauce, sesame oil and cayenne; saute 1 minute longer. Add basil; toss to combine. Sprinkle with sesame seeds.
Source: A friend, Jean.
By Raymonde from North Bay, Ontario
Easy to make hearty stir fried vegetables - lots of nutrients in one colorful dish!
Prep Time: 15
Cook Time: 22
Total Time: 37

Ingredients:
3 carrots
1 red bell pepper
10 mushrooms
1 head broccoli
2 tomatoes
1 head cabbage
bunch asparagus
1/2 onion
5 garlic
1 tsp sugar
2 Tbsp oyster sauce
2 tsp soy sauce
4 Tbsp olive oil
1 tsp salt
Dash of black pepper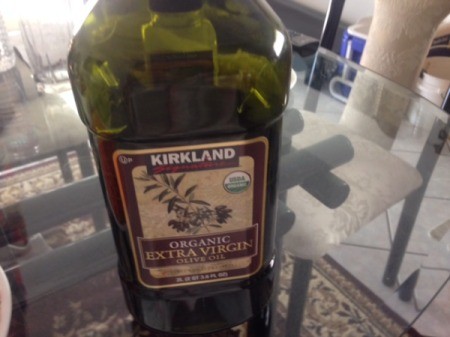 Steps:
Wash all the ingredients. Cut, slice or shred the onions, garlic, tomatoes, broccoli, red bell pepper, mushrooms, carrots, and cabbage.
In a large pan, add a couple of garlic and onion pieces (not all) and stir around quickly until caramelized.
Then proceed to add the carrots, mushroom, broccoli, and cabbage. Stir for 10 minutes. Set aside.
Grab another pan, olive oil, couple pieces of garlic and onion to caramelize and cook the remaining ingredients: broccoli, red bell peppers, tomatoes, onions, and asparagus. Stir around for 5 minutes.
Then combine both pans together in one and add oyster sauce, soy sauce, sugar, dash of salt and pepper. Make sure you stir well and cover the pan for 5 minutes.
Ready to plate and enjoy!
A flavorful vegetarian dish with lots of variety and satisfying mix. Excellent for special diet needs.
Read More...
About 20 minutes before serving, remove any large leaves from broccoli and trim ends if stalks are tough or woody and cut into 2x1/2 inch pieces. Tear romaine into bite size pieces; set aside. In pan over medium heat, fry bacon slices, diced, just until crisp.
Read More...
In a small skillet, stir fry asparagus and peas in butter and oil for 2 minutes. Add ginger and garlic powder; stir-fry 1 minutes longer.
Combine soy sauce and water; stir into skillet. Cook for 1 to 2 minutes or until vegetables are tender.
Read More...
April 18, 2008
0

found this helpful
I found a recipe for tofu stir fry. It's delicious, no matter what veggies you want to use. Stir fry veggies in oil, with the white parts of green onion for one minute. Add all but 1 Tbsp of of broth.
Read More...
Chop fennel into large chunks, removing any branches coming out of veggie, remove hard triangle core in middle. (cut in 1/2 to get at core), set aside. Heat oil in pan for 30 seconds.
Read More...
Related Content