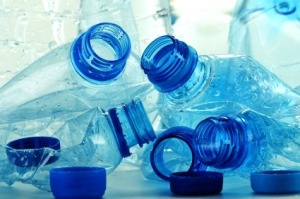 All kinds of plastic bottles can be reused in a variety of creative projects. This guide is about crafts made with plastic bottles.
Ad
---
Solutions: Crafts Made with Plastic Bottles
Read and rate the best solutions below by giving them a "thumbs up".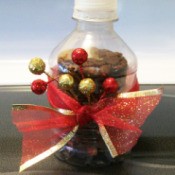 This is a great way to use some of those empty water bottles. Fill them with treats then decorate them up a bit, and you have a great package ready for gift giving.
Approximate Time: 30 minutes
Supplies:
clean dry empty water bottle
scissors
Scotch or masking tape
ribbon
treats
Instructions:
You can use any size water bottle, I used the 8 oz. size.
Cut the bottle in half with a scissors, but not all the way through, leave about 1 inch still attached.
Fill with treats, something that can be stacked is best, I did cookies. You could do fudge, peanut brittle, etc. It should small enough to stack. I cut down my peppermint brownie cookies with a cookie cutter so they would fit.
Now fill up the bottle as high as possible. Close it up and put Scotch or masking tape over the seam. Make sure the cap is on the bottle. I used a wide wired ribbon tied around the seam and then added a few glitter ornaments. The treats should stay fresh.
By NoRulesArt from Sunny FL
Materials:
bowl about the height you wish to cut
pen or pencil
cutting shears or very sharp scissors
sandpaper
round container like a plastic bottle
Directions:
Turn your bowl upside down. Place your container next to it and make sure this is the proper height you need your container. Take a pencil and roll the container around holding the pencil still in place while marking your area.

Poke through the plastic and cut as evenly as possible around the area using your lines as a guide.

Next take your container and swipe it several times in one direction across the sandpaper. This will make the top smooth and there will be no rough edges to cut yourself on.

Decorate the container however you wish and display your pens and pencils or any other item you might like in it.
By maphisx7 from Gordonsville, VA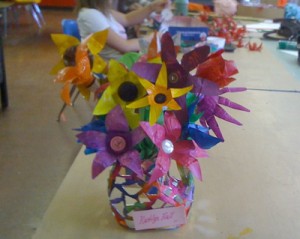 I came up with this idea for a school recycling project. It is made out of a any tall container and filled with flowers cut out of pop bottles.
Approximate Time: 2 days
Supplies:
hot glue gun
craft sticks for flowers
scissors
glue
plastic pop bottles
tissue paper
newspaper
buttons or gem stones
Instructions:
Get a container you want to use for the vase and cut a hole in the top of the container so you can place your flowers in it.
You will need to take the bottom of plastic bottles and cut the bottoms of them out making different flowers.
Then, paint the flowers any color you want them to be. Let them dry for about 1 hour.
Take craft sticks and make stems out of them, you can paint them green to look like stems.
You will want to hot glue the stems to the flowers. After hot gluing the stems, place a button or gem in the center of the flower.
Make an arrangement: stuff newspaper in the bottom of the container so it will make the flowers stay in place. After making the arrangement of flowers, you can decorate the container any way you want to. I decorated mine with tissue paper and broken glass.
Now your project is all completed. This is a wonderful recycled project made out of items you have at home!
By Kaitlyn from Toronto, OH
Make do with the abundance of garbage we consumers produce in our own homes, using empties and scissors or a craft knife. Decide where you wish to cut on the plastic bottle by drawing a line or "winging it" and cut into the bottle a little above where you actually want the cut made with kitchen or craft knife. Smoothly finish your cutting with scissors. Add decorative touches if you wish.
2 liter plastic pop bottle with orange velvet ribbon
Detergent bottle with peel-n-stick cut into leaf shapes and green floral tape
Metallic contact paper covered soup can
Bleach bottle
Mouthwash bottle with green floral tape
Pizza box envelope for inside file box
Shower gel bottle with floral tape and peel-n-stick leaf cutouts
Peel-n-stick paper covered powdered drink canister
All eight of the above are FREE until decorations are added.
By Melody_yesterday from Otterville, MO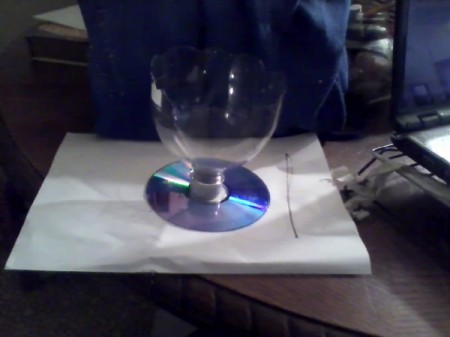 I saw this done on the internet, a post on my Facebook of someone else who did it.
I decided to try it too. I have no epoxy glue so I can't glue them together yet, but I like the way it turned out. It would be a cute planter due to its little size and design, very lightweight. I plan to just lay it around. It is rather genius, don't you think?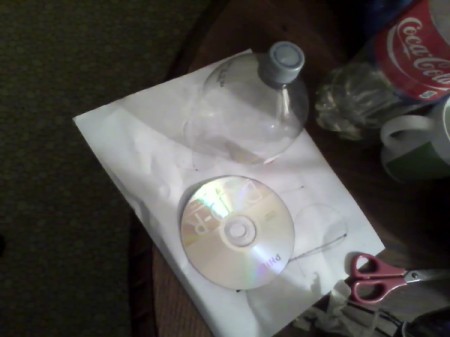 By Robyn [366]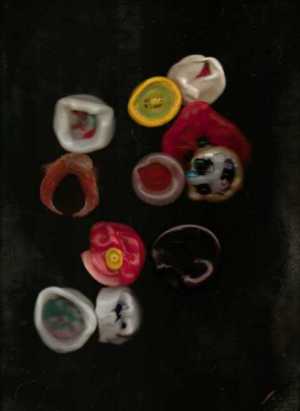 This is a way to use any type of plastic stuff: bottle lids, shampoo lids, prescription bottles, aerosol lids, any type of plastic. You take a cookie sheet and line it with foil. Turn your oven on to 450-500 dergees F. You line up the plastic you want to melt. Put some on their sides or stack a larger one on a smaller one. Put in the oven.
Keep a close eye on them. When they start to melt, they get in different shapes. Don't let them melt to just a flat blob. While the plastic is still hot and semi-molten, you can embed different things in the plastic (small toys, buttons, beads, odd metal pieces) or you can put pieces of crayon or glitter in them.
I keep a baby wipe box marked "Pirate Treasure" filled with these things. Kids love to look through them or hide and find them. Once my nephew was visiting and I had him melt an orange lid with a smaller one of blue kind off to the side. While it was hot, he stuck a plastic dinasaur in the orange. It made a small diaorama. He put metal loop off the side. This made a neat keyring. When it was cool, I added some glitter nail polish on the blue so it looked like waves. I wish I had a picture of it. It looked like the dinasaur was on a beach by the water.
Sometimes if the item won't stay in the melted plastic, you can use a spoon to bring the plastic up over the item to hold it in. Of course this is done with adult supervision. The hot things can be placed in water to cool faster. While I used a regular over, a toaster oven might work better.
By Nightsong from Hay Capitol of the World
Editor's Note: Be sure that you use proper ventilation when melting plastic as it may create harmful fumes.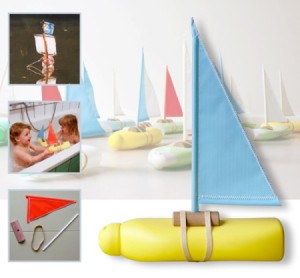 A fab little project for you to make with your children and grandchildren this summer. Make these great little boats and then go sailing!
You only need a clean plastic bottle, elastic band, a cork, a straw, and some material for the sails. (You could use the plastic from a carrier bag also).
By Monique from Somerset, UK., Weston-super-Mare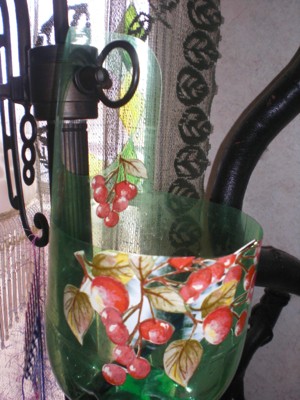 I saw this in my email this past week and I don't remember who it was from, but it is a perfect way to solve your pop bottle build-up that you were saving for "who-knows-what"
Create a quick pattern from an old business size envelope if you need one, level out the side. (I rounded my corners a little bit). Cut out the circle for the doorknob and you're done.
I applied a little peel-n-stick deco I cut out and also used foil flowers, decorate them however you want to. I want to use some of these in the garden and yard with small potted plants I can hang in trees or off a fence post.
I cut part of the bumps on the bottom off to use that way (about the size of the tip of my pinky finger for drainage).
Source: Craft related email - Forgot who it was from.
By Melody_yesterday from Otterville, MO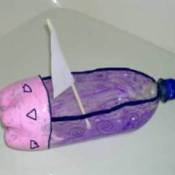 Kids love to play in the water. And kids especially love to float toys in the water. With this great craft, they can play with a toy of their own making. A soda bottle can be turned into a sailing vessel to be used in a pool, in a pond, in the ocean, on a creek, or merely in the bathtub!
Materials:
Latex Paint
Black permanent marker
Transparent tape
2 liter plastic bottle
Plastic drinking straw
5x7 sheet of plastic (a notebook divider works well)
Modeling clay
Tools:
Steps:
1. Cut the plastic bottle in half, lengthwise, keeping the base and the neck.
2. Draw designs on the outside of the plastic with a black permanent marker.
3. Color the designs on the inside of the bottle with acrylic paints.
4. Draw a sail on the plastic divider. Be sure to draw the sail about 1 inch wider than what you want so that you can attach it to the mast.
5. Fold the excess sail over, making the fold smaller towards the top of the sail, and secure with transparent tape. You want to create a hollow area to insert a straw but do not want the straw to be able to poke out the top.
6. Insert a straw into the sail.
7. Push the mast with the sail into a piece of modeling clay and then place the mast in the middle of the boat.
All that is left is to float the boat! If you make more than one sailing ship, you might want to have races. This is especially fun if you live near a moving body of water such as a creek or river. If not, create "moving water" by using your body to create waves.
Additional Ideas: Use some more plastic to create a sailor for the ship. You can even cut out your child's face from a photo so that he or she can be the sailor!
By Teri Clark
Give a "thumbs up" to the solution that worked the best! Do you have a better solution? Click here to share it!
Questions
Here are questions related to Crafts Made with Plastic Bottles.
Does anyone have any craft ideas on what to do with empty disposable water bottles? We use so many during the week and I hate to just throw them away.

Lady of the World from NC
Ad
---
---
Most Recent Answer

By Debbie Jennings [2]07/19/2009
I don't use the disposable bottles anymore. I bought me 3 "green" water bottles. They are dishwasher safe so I always have a clean one. I fill it up with ice and then water and take it with me.

When I did buy bottled water, I would reuse them. They wash well in the dishwasher (top shelf). But since we got the faucet with a water filter, that is all I use anymore.

I've accumulated a few hundred of these little, white, plastic, 2-ounce bottles. Each measures approximately 3-1/4 inches tall and has a little screw-on cap. Energy "shots" came in them.
Now that I've ingested all of this stuff, I've got enormous amounts of energy to do some sort of craft or project with all of the empties. But I don't have any ideas. Do you? Help put my energy and empty bottles to good use!
By Ted from Los Angeles, CA
Ad
---
---
Most Recent Answer

By DeBushe [18]07/22/2010
Why not cover them with polymer clay (Sculpey, Fimo, etc) and give them away for Christmas for people to use for decorative pill bottles. I have made many and sold them to various stores. Since the clay bakes at 250° the bottles won't melt. Here's a picture of one of them. The little dragon is made from polymer clay, too.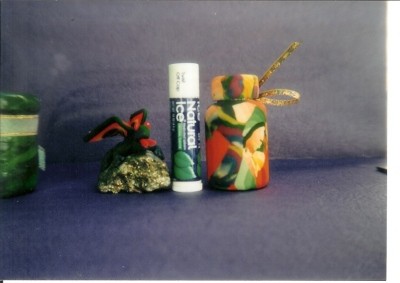 Does anyone know how wide or long the cut needs to be in plastic soda bottle wind chimes. The cut is in the side of the bottle. Does the lid need to be left on?

Deb from Knox, TN
---
Most Recent Answer

By Tom J. (Guest Post)11/12/2008
It's silly, cheers, Tom

I am looking for creative craft ideas for Coke plastic bottles.
By Dorothy from Durban, KZN
---
Most Recent Answer

By DIDI 06/15/2012
Fill the bottom of several bottles with sand/or water. Set them up like bowling pins and give the kids a ball so they can "bowl" like mom and dad. Fun, safe and thrifty. Saw this in a recent magazine. Didi in Denver
I have been making a project out of using as much of the gallon milk jugs as I can for crafts. I end up with some left over which I cut into very bendable strips. I am wondering if any of you crafters out there have any ideas on what I could weave these into?
Thank you for any feedback on this.
By Robyn from Tennessee
---
Most Recent Answer

By Lucinda F.06/21/2013
Have you tried weaving them into either tall cylinders around 2 liter soda bottle using the bottle as a liner for vases and decorate as you wish, or rectangular or square baskets that can be used outdoors as planters after lining with landscape cloth for patios, decks, porches, back steps, etc. Can also be used to hold pencils, kids crayons, etc. Sky is the limit w/this one.