I now see there are tiny black itchy bug, how do I treat? They are outside, inside, and getting in my hair.

June 11, 2017
0

found this helpful
Without a picture, it's hard to identify. Put the bugs in a sealed plastic bag. Take it to a place that sells pesticides and they can help. You can also send a picture to your local Cooperative Extension.
June 12, 2017
0

found this helpful
I don't know but maybe fleas or bedbugs? I know diatomaceous earth gets rid of many insects including fleas...Maybe look into it to see if youre comfortable using it
June 12, 2017
0

found this helpful
DE diascanthous earth. FOOD GRADE Amazon sells it. Put it where you see the bugs. The DE dries them up. Its safe for humans and dogs and cats to eat. Vacuum it up after few days. Reapply. Same
June 14, 2011
1

found this helpful
How can I identify these tiny bugs that are almost invisible, although they are black? We have almost white carpeting in most of the rooms and you have to look very closely to see them. When you are just ready to pick them up, they begin to move. I now use the method of getting them on paper and then placing them in an tight used medicine bottle. Some live for weeks some so tiny the look like this: ( . ) others looks like tiny beetles. You don't notice they have wings until they are turned upside down. I cannot see legs, nor antenna, just this ( . ).
They have been found mostly by our PC tower, others in the master bedroom. I am going zonkers trying to find out if I need an exterminator and are they dangerous to our health. Anyone, someone, please help or refer me to an authority on bugs. The exterminators will not come out unless you identify them, dud, I can't. Thank you and please help.
By CR
June 15, 2011
1

found this helpful
Best Answer
Sounds like you have either a flea infestation (Note fleas are very small but do not fly they jump) or the start of a termite infestation. Best thing to do either way is bomb fog your whole house. Good luck.
June 16, 2011
3

found this helpful
Best Answer
I think your problem is even simpler than you think. First if you have an extension agent for your area he will usually come out or you can take him a sample of the bugs and if he doesn't know he will send them to the state university, free, and they will identify them.
But, I think you have a mold problem and these bugs only eat mold, hard to see but with a bright light you probably can see the tiny things on the wall and when the light gets near them they will move. I had to use bleach just a little in a spray bottle will do and they are gone, if you do have mold then you have moisture and that is your big problem. You will have booklice or mold bugs as long as moisture creates mold. I thought I was crazy when I found them on my brand new house with white walls, almost like black spots but they moved if you stared long enough. Smile, this did go away with a little staying with the spray. And a dehumidifier on the ac because our house was too airtight.
October 2, 2016
0

found this helpful
NO THEY ARE NOT! SPINGTAILS DONT BITE!,PLEASE REFRAIN FROM SPOUTING OFF ABOUT SOME THING UNLESS YOU FULLY KNOW WHAT YOU ARE TALKING ABOUT! THESE MITES OR BUGS ARE VERY AGGRESSIVE AND THEY DO BITE! THEY DONT ALWAYS LEAVE A MARK, BUT YOU KNOW THEY ARE OR WERE THERE! THEIR BITE FILLS LIKE SOME ONE QUICKLY POKING YOU WITH THE VERY VERY TIP OF A NEEDLE, BUT NOT TO THE POINT OF DRAWING BLOOD.
THESE INSECTS CAN WELL AND TRUTHFULLY DRIVE SOMEONE TO THE VERY BRINK OF SANITY!, ESPECIALLY IF THE INDIVIDUAL IS CONSTANTLY BEING TOLD THAT IT'S ALL IN THEIR HEAD OR THEY'RE FEELINGS ARE NOT BEING VALIDATED,
May 25, 2017
0

found this helpful
Please I hope u can help me! They are EVERY WHERE!OH My car, clothes, bed, bathroom floor, kitchen floor, and the worst is my body and hair. Had these bugs about 6 months . I lost almost all my hair because of these bugs. My hair was almost to my utt and not right about my ears. Thes bugs had ruined my life and looks. Ive tried boming 6x,s , lice stuff 10x,s..and bed bud spay and raid. Well threw my research i think they are mites... Please call me 804_255-4824.. Tara.. Thank u
Read More Answers
I am trying to identify a bug. It is pure black, a little bigger than a straight pin head, non biting, and loves window light facing north. They are always crawling, but if disturbed fly and try to hide in the curtains. They disappear when the sun goes down. The next day a lot of dead ones are on the sills and a lot on the window. If I wipe them with bleach saturated paper towels I still get more the next day. I read all of TFun advice, but none fit my black bugs so far. This is the second year they've appeared. Hopefully someone can identify them for me. I can't add a photo since it's 10 pm and they've disappeared to where I don't know. Thanks in advance.
August 9, 2016
0

found this helpful
What are the very small,(1/16) of an inch, thin, flat, fast crawling,
dark color,bugs that I sometimes see in my window sill, and sometimes other places in my apt. They are hard to smash!
April 21, 2013
0

found this helpful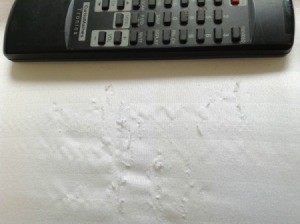 Since last fall, when I purchased a new bed spread, I have been plagued by tiny (head of a pin) black bugs. They live in my bed, which I have sprayed so much I have sinus problems. There is the tiny black stage. There is the cloth and larvae stage, the feeding on the sheets stage, and the depositing stage (they have a drain field of "or and" spots 6 to 12 inches X 4 inches. The University of Minnesota saw no insects, the building management said it was in my mind; the pest control, well, I can't say here. I have pictures.
By Bob R from Plymouth, MN
April 21, 2013
0

found this helpful
Best Answer
The next time you see these black bugs, try using some Scotch tape to grab a few (try not to crush them). Stick your sample to an index card. Show this to an entomologist or professional pest control person.
For eradication (once you identify them), I suggest contacting a professional pest control company.
April 30, 2013
0

found this helpful
There called ibugs which are really hard for other people to see, I know bcos I known people that have seen them as well and for the sinus problems going to the doctors won't help you but I might know something that won't cure it for sure!
July 9, 2013
0

found this helpful
springtails!!!
July 30, 2015
0

found this helpful
I've suffered for years with this problem until yesterday when I tried the "yellow Listerine" (actually it was the dollar general brand) solution. I saturated my mattress, misted pillows, and even applied it directly to my skin with a washcloth. Before work today, I sprayed my clothes inside and out and again with a washcloth to my skin. It's working miracles. This is a solution I will be sticking with.
Could you please identify the type of bug this is? There are a pack of them on my balcony. I would like to know how to get rid of them also. Whatever you could do to help would be greatly appreciated.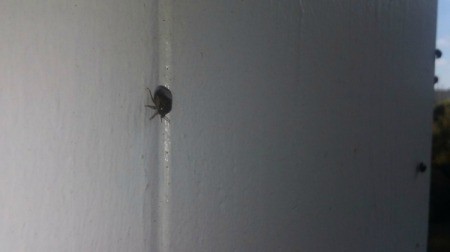 January 31, 2017
0

found this helpful
This is a really bad picture, I can't tell whether it is a ladybug, a bedbug, or a stinkbug. We would need to know:
1) its size (maybe photo it next to a penny)
2) its shape
3) its colour (either a better photo or tell us)
4) its activities (fly? crawl? etc)
I suggest you resubmit a photo for a better answer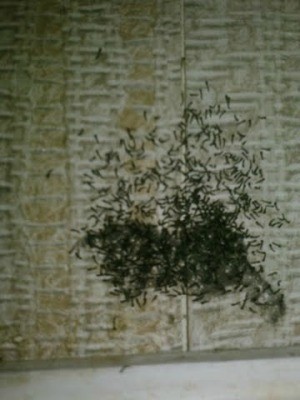 I walked into my bathroom (small bathroom with no window that's able to open) to notice a black spot on the wall about a inch and a half wide. I got closer to realize it was a cluster of little black bugs! They move like worms. Does anyone have any idea what these are?
By KaleyM from US.
July 8, 2012
0

found this helpful
Best Answer
I just saw this tonight. If they're wormlike, they might be maggots, which turn into flies. There might be a water problem in that spot, and flies lay eggs in water. The eggs hatch into maggots. Kill the maggots and try to fix the wetness, if any. I've seen them on the bathroom sink counter, if water splashes behind the faucet and puddles there, for instance, in hot muggy weather. It only takes a day or so for them to appear. I wash them down the drain with hot, hot water. I have to remember to dry up stray splashes on muggy days.
June 25, 2012
0

found this helpful
Silverfish?
I thought my kitty had somehow managed to catch fleas even though she is strictly an indoor cat. I've noticed her scratching a lot lately, but I don't see any flea symptoms on her. Recently at night when I lay on my bed I feel really tiny insects jumping all over me, but I have no bite marks. I did the flea water test but no fleas, just some bugs that look like fruit flies. Any ideas? It's really annoying to feel these things jumping all over you. I live in a ground floor apartment.
July 26, 2015
0

found this helpful
There are many conditions that people assume are cat or dog flea bites and itching. However, the bites and itching are often from many other bugs or conditions, including mites, mosquitos, dandruff or highly contagious skin mites (that do not bite but move in under the skin and eat the keratin, etc., irritating the skin). Some people try to cure itching and skin problems with one home method or another to save money but are usually unsuccessful because they do not know the exact cause of the problem, try useless remedies, and their cat or dog just continues to suffer. By the time they finally take their poor animals to the vet, the problem is much more serious and requires more expensive care. So they then complain about "expensive" vet care.
I recently read a woman's tip to prevent bed bugs from coming into her bed. She placed unused dryer sheets on each corner, under the bottom sheet. She explained that bed bugs do not like the smell of dryer sheets so avoid the bed. Bed bugs do not have the ability to smell anything as they do not have the required smell apparatus (my husband is an entomologist). Bed Bugs are only attracted by an animal's body heat so, as we humans spend alot of time in bed, the bugs home in and stay in our beds.
Please, if you are not absolutely 100% correct about a problem and cure for your pet, do not try strange remedies as the suffering continues, will become worse, and may endanger your pet's life!
May 7, 2016
0

found this helpful
It doesn't matter if your cast is strictly an indoor cat, she still needs to be treated monthly with a flea/tick repellent. My cat is also strictly an indoor cat and we right we could skip one summer... We couldn't. You could've just called the vet and asked if you needed to treat it and they would've told you YES! What you're describing sounds EXACTLY like what we went through when our at had fleas( they were only in the rooms our cat layed in, not bed). If they have infested your sheets, you have a serious problem