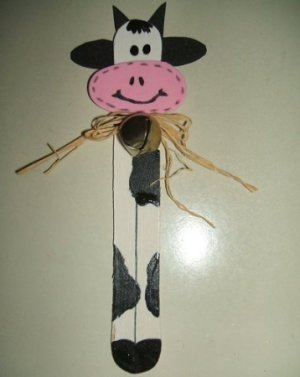 Handmade bookmarks are a great gift for the avid reader and a creative project for the maker. This is a guide about bookmark craft ideas.
Ad
---
Solutions: Bookmark Craft Ideas
Read and rate the best solutions below by giving them a "thumbs up".
These are paper corner bookmarks which are super cute, fun and easy to make!
Approximate Time: 5 minutes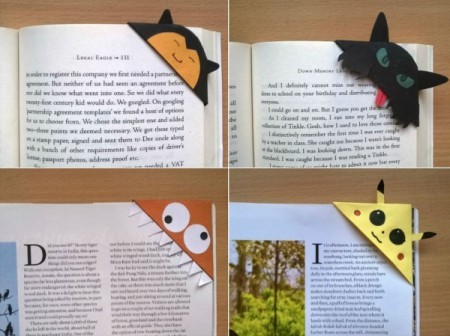 Supplies:
1 paper
1 scissors
1 glue
infinite imagination
Ad
---
Steps:
Cut the paper in a 12x12 cm square. Then divide it into 4 parts as shown. Cut out the part shaded with pencil.
Fold according to the pictures. Apply glue and fold the other part too
Add some details to beautify your bookmark and you're done! These can be made in all shapes, sizes and colours and are perfect gifts for children!
By advaym [7]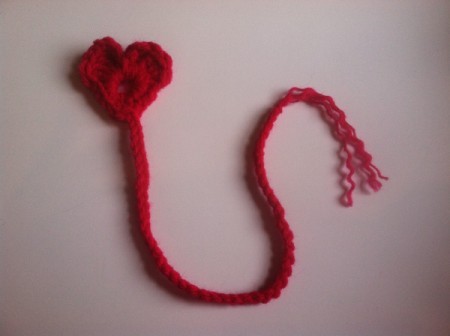 Who couldn't use another bookmark? I created this pattern because I needed more bookmarks. I think crocheted hearts are darling, I love being able to put tiny scraps to good use. I also love super quick projects, and I think these would make nice gifts. That said, here's the pattern so you can make your own. Have fun!
Approximate Time: About 5 minutes
Supplies:
"h" crochet hook
tiny amounts of worsted #4 yarn
scissors
embroidery needle for weaving in your end
Ad
---
Steps:
Ch 5, join with a slip stitch to create a ring.
Ch 3, work 4 sc into your ring.
Please remember to continue to tightly pull your stitches to the right on your ring. Don't worry, you won't hurt them! They need to be pulled over after every few stitches to make room for everyone else.
Now work 5 treble crochet.
You will now slip stitch. This is creating your first "heart bump".
Ch 4, work 4 treble.
Work 4 sc.
Work 1dc.
You will now be joining with a slip stitch in the space between your original ch 3 and your first sc. See?
Now you have a heart!
You may decide to simply end here and use this as an appliqué.
If you want to continue on with your bookmark, you will now ch 45. My book is about 9" tall. You can easily adjust this for taller or shorter books. Simply chain less or more!
When you have finished chaining your desired length, fasten off. Make a simple overhand knot to reinforce your end.
Leave about a 2-2 1/2" tail.
Unravel your 4 strands to create a cute frilly tail.
See how nice it looks when in your book?
And the tail?
Enjoy!:)
Source: I was trying to copy a bookmark I saw online a long time ago. I like how this one turned out even better. Less ends to weave in.:)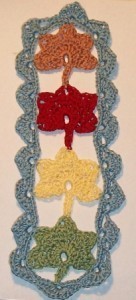 With the fall leaves turning already, what better thing to make for the long winter reading list than this easy and fun bookmark!
Approximate Time: 1.5 hours
Supplies:
crochet hook size 5
scissors
scraps of #10 cotton thread in green, yellow, orange, red, and brown
Instructions:
Before I get started, know this:
I make almost all of my projects in double thread and a larger hook. For this reason, my work will appear larger than yours, so don't go by the photo as much as the pattern. Also, I didn't have any orange so this will also alter the look of my bookmark.
Each leaf is about 1 and 5/8 inches wide and long. Your finished piece should be approximately 2.5 inches wide and 9.75 inches long.
For the first and all leaves
Ch. 7, sl st in seventh ch from hook to form ring.
Row 1: Ch 5, sc in second ch from hook and in each of next 3 chs: in ring work (1 sl st, 1 sc, 1hdc, 9dcs, 1 hdc, 1sc).
Row 2: Ch 1, turn: sk first st and sc in hdc: work (ch 1, 2 dcs in next dc, ch 1, sc in next dc) five times.
Row 3: Ch 1, turn: sc in ch-1 sp, ch 1, (dc in next dc, ch 1) twice, sc in next ch-1 sp, sc in sc: *ch 1, dc in next ch-1 sp, work (1 dc, 1 tr) in next dc, ch 1, work (1 tr, 1dc) in next dc, dc in next ch-1 sp, ch 1, sc in next sc: rep from * two more times: sc in ch-1 sp, ch 1 (dc in next dc, ch 1) twice, sc in next ch-1 sp, sc in next sc, fasten off.
All Remaining Leaves:
With next color, ch 7, sl st in seventh ch from hook to form ring.
Row 1: Ch 5, sl st in top ch-1 space of previous leaf, sk first ch of new leave and sc in each of the next 4 chs, sl st in ring of new leaf: in same ring, work (1 sc, 1hdc, 9 dcs, 1 hdc, 1 sc).
Repeat rows 2 and 3 or previous leaf.
Make the next three leaves as above.
Edging:
Join border color of your choice (Note: I didn't like that the edging was the same color as the leaves, so I made mine blue).
Join on top of ch 1 sp on top leaf with a sc, ch 7, sc in next point of same leaf, ch 6, sc in next point of same leaf: (ch 6, sc in next point of new leaf, ch 6, sc in next point of same leaf) four times.
Ch 7, sc in end of stem, ch 7, sc in next point of same leaf, and continue as above to the joining point. Join with sl st.
Sl st in ch-7 sp, ch 2, work 7 scs in ch-7 sp: (ch 3 work 7 scs in nest ch-sp) around, ending with ch 3, sl st in first ch of beg ch-2.
Ch 4: *sk 3 scs, sc in next sc, ch 1, sk 3 scs, work (3 dcs, ch 2, 3 dcs) in next ch-3 sp, ch 1, rep from * nine more times, sk 3 scs, sc in next sc: in ch-3 sp, at end of stem, work (ch 1, dc) six times, ch 1, rep from * ten times: sc 3 scs, sc in next sc: in last ch-3 sp, work (ch 1, dc) five times, ch 1, sl st in third ch of beginning ch-4. Fasten off.
Note:
If you are a novice crocheter, this pattern might not be the place to begin. There are a lot of nice bookmark patterns that are basically just super short "mile a minute" patterns with easier to follow instructions.
Seasoned vets' will look at the pattern and be able to make it with out the instructions. I did, but I have been doing this for 52 years.
N-JOY!
By Sandi from Coos Bay, OR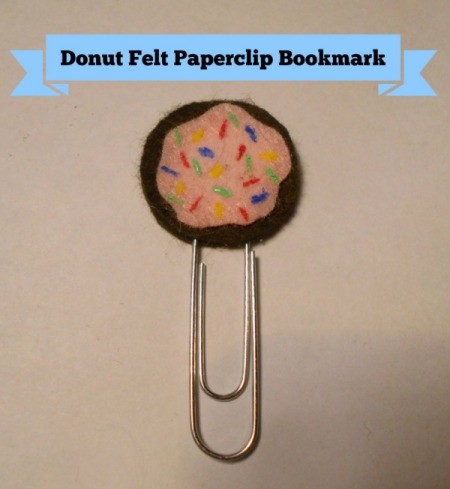 This adorable felt bookmark will not only help you keep your place, but is so cute everybody will want their own. And they are so easy to make you could make a dozen donuts (booksmarks that is) easily!
Approximate Time: 30 minutes
Yield: one bookmark
Supplies:
1 piece brown felt
1 piece felt in the color you want the frosting
fabric glue
1 large paperclip
thread that matches your felt
scissors
needle
fabric paint and a small paint brush.
Steps:
Trace a circle onto your donut felt, in this case the dark brown. I found that my Ulta nail polish bottle was the perfect size for my paperclips. Repeat this a second time so you have two circles.
Cut the two circles out and double check that they match. You don't want to discover they don't line up after you've already glued then into place.
To prevent the paperclip from detaching from the felt during repeated use, do a few stitches to keep it in place. Place them at the very top of the paperclip, making sure to tie it off well.
Now that the paperclip is secured in place, apply a generous layer of your glue of choice. Make sure the glue goes to the edges so it doesn't eventually split apart.
Place the second circle of felt onto the glued side and press them together. The paperclip should now be sandwiched between the two pieces of felt. I think it kind of looks like an Oreo at this point.
Cut out a blobbly shaped circle smaller than your donut circles out of your frosting color, in this case my light pink. You want it small enough that you can see the donut color all around it.
Apply a layer of glue to the icing piece and press it onto your donut piece. It should now start to look like an actual donut. Let the glue dry for a while before you move onto the next step.
Using a few different colors of your fabric paint, paint on short little dashes. These are your sprinkles. I used blue, red, yellow, and green so my donut would match one of my favorite types. Let everything dry completely (I recommend overnight) and your bookmark is all ready to go! I'll be using mine in my planner to mark some important dates for work I need to keep track of.
Link: http://bestbeautyformybuck.blogspot.com/2015/03/donut-forget-your-place.html
Help kids prepare for the new school year by making this quick and easy cow bookmark!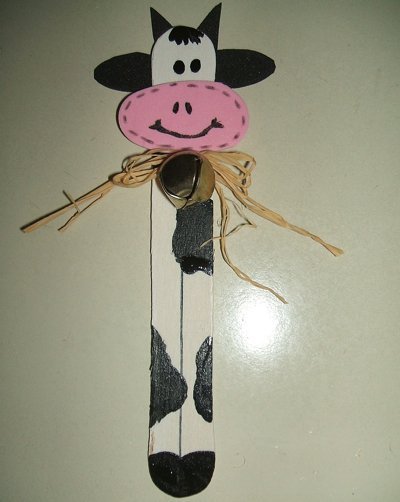 Approximate Time: About 1 hour
Supplies:
wooden jumbo craft stick
black and white acrylic paint
paint brush
pink craft foam
black craft foam
fine point black marker
craft glue
scissors
12 inch piece of raffia
small jingle bell (optional)
pencil or pen
Instructions:
Paint craft stick white and set aside to dry.
While waiting for it to dry, draw and cut out ears and horns from black craft foam and oval shaped muzzle from pink craft foam.
Draw nose and dashes on muzzle as pictured.
Paint black spots randomly on cow's body and draw a fine black line on craft stick for legs.
Dip handle end of paint brush into black paint and dot the eyes and paint a bit of hair at top of head (refer to photo).
Allow paint to dry before gluing on ears, horns, and muzzle. String bell onto raffia and tie around craft stick below muzzle. Glue into place.
By Rachel's Mom from Wilkesboro, NC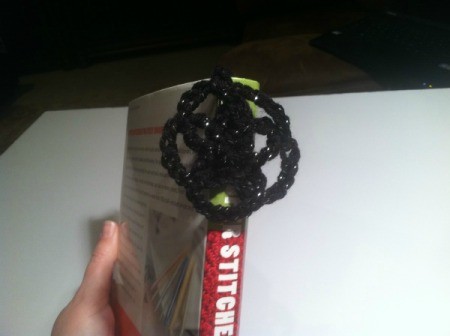 This is a quick, easy, and pretty crochet bookmark, a great way to use up those scraps. They make great gifts too!
Approximate Time: Less than 10 minutes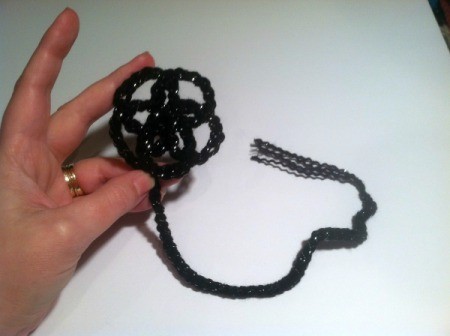 Supplies:
"I" crochet hook
tiny amounts worsted weight yarn
scissors
embroidery needle for weaving in ends.
Steps:
Ch 5, join to the first ch with a slip stitch to make a ring.
Ch 5, sc in ring.
Ch 5, sc in ring.
Repeat last step 2 more times.
Ch 5, join in the first ch of the round with a slip stitch. Right here, see?
This is what you have now.
Slip stitch in the first ch 5 space, ch 6.
Sc in the next ch 5 space.
Ch 6 and sc in the next ch 5 space.
Repeat last step in each ch around.
On your last ch 6, join with a slip stitch to your first ch 6 space of this round.
Tightly ch 44 You may wish to chain less or more, depending on the height of your book.
Fasten off, leaving a 1" - 2" tail, however long you like. Make a simple overhand knot to secure the end.
Unravel your tail to make a cute frilly end.
Weave in your ends.
See how nice it looks?
Make some for yourself or give some away!:)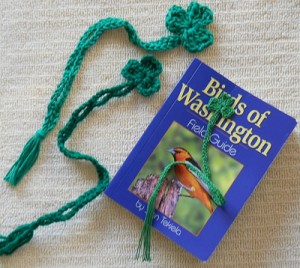 3 sizes of shamrocks ready for sharing of the green.
Approximate Time: 10 minutes
Supplies:
yarn or thread
appropriate hook for your choice of yarn or thread
tapestry needle sized for your thread/yarn
Large: worsted weight yarn
size H (5.0 mm) crochet hook
Medium: sports weight yarn or size 3 thread
crochet hook size F (4.0 mm) for yarn E (3.5 mm) for thread
Small: Size 10 thread
size 7 (1.5 mm) steel crochet hook
Sizes:
Large = 2 by 13 inches
Medium = 1 5/8 by 13 inches
Small = 1 by 12 inches
Stitches Used:
Ch = chain
Tr = treble crochet
Dc = double crochet
Sc = single crochet
Notes:
1. Read instructions all the way through before beginning.
2. I tried to find size 3 crochet thread in a good green, but it must not be the right season for "Christmas" green. So I settled for RH sports weight in Paddy Green. If you can find it, the cotton works up much nicer.
Instructions:
Shamrock:
Chain 4, join with a slipstitch in first chain to form a ring.
Work over the yarn tail as you work into the ring. *Ch 3, tr, dc, tr, ch 3, slip stitch in ring. Repeat from * twice. (3 leaves)
Bookmark Tail:
Ch 40 (S), 55 (M), 70 (L), sc in the 10th ch from hook to form ring. *Ch 4, skip 4 chs, sc in next ch. Repeat from * until 5 chains remain, sc in last chain.
Fasten off.
Weave in ends.
Tassel:
Cut 6 strands of thread about 6 inches long. Fold in half and draw loop through the ring at end of tail with a crochet hook. Draw the loose ends of the strands through the loop and pull them down tightly to form a knot. Trim ends of tassel evenly.
Optional Blocking:
If you used cotton thread or yarn, you probably want to block. Mix 1 part vinegar with 5 parts water. Wet the bookmark with the vinegar solution. Squeeze out excess and lay on a towel. Shape the shamrock and tail, allow to dry.
By Suzetta from Bellingham, WA
This is a good little project for kids and adults alike. They take minimal sewing and embroidery skills. They are so fun to make and would be nice gifts. :) Did I mention they are nearly free?
Approximate Time: approximately 25 minutes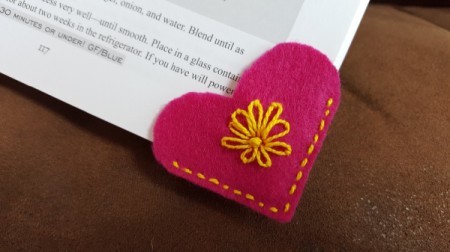 Supplies:
small amounts felt
embroidery floss
scissors
needle
template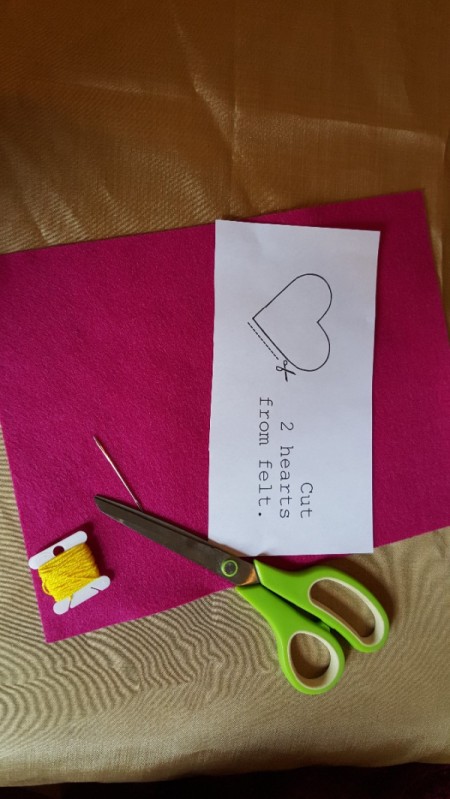 Steps:
Here is an outline of a heart; perhaps you can print this.
Cut 2 hearts from the corner of the felt.
See?
Thread a length of floss, knotting the end to secure it inside your work.
Put your hearts together. Begin making simple running stitches very close to the edge of your hearts. Be sure you are going through both layers.
See?
Now using the same thread, make a French knot and daisy stitches for a flower.
You could also embroider "I love you" or "#1 Teacher", the possibilities are endless.
Make a simple overhand knot close to your work a few times and hide your trimmed end on the inside of your bookmark. Enjoy!
Source: Pinterest inspired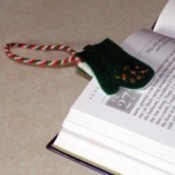 Felt mittens make handy bookmark.
Materials:
felt scraps, 3x1 inches
tacky glue
beads, sequins or glitter glue for trim
metal pin curl clip
yarn for hanging loop
Instructions:
Draw a template of a mitten 3 inches long and 1 inch wide. Use it to cut four scraps of felt. (The palms of the mittens can be a contrasting color.)
On the center of the cuff end of each palm-side piece, cut out a tiny rectangle the width of the pin curl clip and 1 inch long.
Glue the two sides of each mitten along the edges, catching in the ends of the yarn loop as shown.
Decorate the top of each mitten.
Clip together.
By Preserver
Give a "thumbs up" to the solution that worked the best! Do you have a better solution? Click here to share it!
Questions
Here are questions related to Bookmark Craft Ideas.
I am looking for a crochet pattern for a book mark that fits on the corner of the pages.

kddid from Springfield, MO
---
Most Recent Answer

By G J Amber [1]09/06/2008
I know we hate it when people answer our questions with something else, but I did want to point out that from my experience the large loops that you put over a book with some cute thing at the bottom, works the best for me. The corner ones would not stay on and got bumped off very easily. The ones I prefer are also called book thongs. The added nice thing is that you can just slip them over your wrist when you start reading and then slip them back over the book when you are done. No searching to see where you put the bookmark.