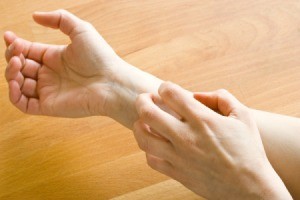 Questions
Here are questions related to Identifying Little Black Biting Bugs.
Only very recently I have bites on my ankles almost like mossie bites and they leave a tiny pink spots (like mossie bite after they stop itching). Today I caught them on me, it's black very tiny. You can barely see them. There are ones a bit bigger, like black pepper sprinkles, and there's a few of them I captured. Then they disappeared, I do not see anymore. I need to know if it's related to pets (unlike fleas when captured they snap when squashed these don't) or carpet pests. Would pesticide kill these bugs? I have never seen these bugs. Could they also be coming from plants soil?
Kind regards.
Thank you.
By Julie
---
Most Recent Answer

By Kim M.07/09/2013
springtails!!!!
I don't know what they are. They are very little, even smaller than a mosquito. They are hard and black. They are flying all the time in my room, trying to bite me and drinking my blood. I have already killed a lot, but still they are in my room. It's hard to find them in my room, but when I am sitting on table or in the bed laying down they came and try to bite. I just start feeling worse. I need a solution soon, please.
By Fidia
I feel very desperate as to how to get rid of these annoying little bugs. First of all, I have to tell you that I am hundred percent sure they are not fleas nor bed bugs. I know this since I have used extensively, bombs and other chemicals, that would have already wiped them out.
Also I collected some samples and showed it to the local bug inspector companies and have been told the same thing. That they are not bed bugs or fleas. What they could tell me was that they could be "black nuisance bugs", but he was not very sure about it.
Let me try to briefly describe them. They live on my clothes and they bite me during day or night. You feel them moving which makes it very hard to fall in sleep. The only solution I could find was to get up and take my clothes off and just shake or pound them to make them fall on a white surface. They actually do fall when you do that. And whey they fall, they do not jump around or move, they just stay put in one place and you can just pick them up and they would still not move on your hand. (I know they are not fleas.) Currently my only solution was to keep vacuuming the house and try to catch them the way I described, but I keep finding them again and again.
Any idea is welcome.
Thanks!
By John E
---
Best Answers

By Louise B. [4]01/03/2014
You do not say where you live. That might be helpful. I would try to find out what these things are; I have never heard of "black nuisance bugs" - sounds like something this fellow made up to me. Do a search on the internet. Phone your public health office. Contact your Department of Agriculture or a university science department. Are these insects breeding in your home or coming in from outside? These are all things you need to investigate to be able to get rid of them.
---
Best Answers

By sweetsammy [1]01/02/2014
How long have you had these bugs? Do they fly, walk, jump? Are they maybe in the dryer or something? I had a nasty bout with fleas and spent 3 grand on chemicals boms exterminators (I know you said they were not fleas), but what did work was salt. I threw salt around the house all over (we wore shoes for 3 days) then vacuumed. That was it - they were all gone!

I found salt works with all bugs. This should at least kill the eggs, then stop the cycle of what ever they are. I'd also try dishsoap in a upside down margarine lid on the floor to maybe catch them? or like a home made fruit fly trap if they fly? Something else I'd try is doing the laundry at the laundromat, or changing detergent. Borax and salt was actually the recipe for fleas, so maybe add some borax to your laundry to stop the cycle there.
Good luck!
For a while, I've been getting a bunch of bites all over my body and they itch a lot. I think I have over 50 now. I searched through my bed and found tiny black dot looking bugs. When I crushed it blood came out. What are they? Bed bugs, fleas? I also have a cat and he had fleas.
By Grace
---
Most Recent Answer

By cathy33311/17/2013
If your bites are on your upper body and in a straight line, I'm afraid they might be bedbugs. Look in the seams of your mattress (on the edges of it). Also, on your sheets you'll see black dots which they leave. If they are bedbugs, you might be better off getting a professional exterminator to get rid of them. They are not easy to eliminate.
How do I get rid of tiny black bugs? We've had them since last summer. Recently I found out they're coming in through the window over our sink. Last summer they had infested all of our cabinets. They look like a dot and grow to almost the size of a piece of rice.
We cleaned out all the cabinets and I think they were all dead. But a few still kept coming in. Recently I climbed up and opened the window and there was a whole nest of them on the ledge and halfway up. I tried to knock them off, but them like stuck there. That's when I got bit. They must have gotten on me because after that I started to get bit, and those bites itched like crazy for 3 weeks. Now I am afraid to go near the nest. They are still coming in. We find them around the sink area and on both windowsills. Someone please tell me how to get rid of them, they're driving me crazy.
By Linda5544
---
Most Recent Answer

By Jackolyn Smith10/17/2013
Try spraying the nest with hair spray. They won't be able to move and it should kill them. Repeat every day until they are all dead.
I have flea bombed my house and also have bombed my house with bed bug bombs. I am running out of ideas. My family and I are getting bitten, one here and there. Does anybody know what it is and what I can do to stop this?
By Nicole
---
Most Recent Answer

By Louise B.05/27/2013
I think that you should try to figure out what kind of bug it is - fleas, or bed bugs, or something else. Indiscriminate spraying of pesticides is one of the reasons why we have bedbugs nowadays. You may be getting reinfected over and over as well, or may be spraying pesticides all over the house, and not targeting the insect that is actually doing the biting. Anything that will poison an insect will also poison a human, so be aware that you are inhaling poison as well as the bugs inhaling it.
I have had a problem with something biting on my feet and legs in my office off and on for 3 years. We have tried shampooing, pesticides, bug bombs, etc. We now sleep in our living room because they have taken over our room. My hair was down to my butt, now, less than 3 months later my hair is 1/4 inch long.
They are black triangle shaped bugs that bite just my dog and I. My doctor told me there are no bugs and for me to make appointment with mental health. I'm tired of being shrugged off by the medical community. I already have health problems and am getting worse. I need help fast. I live in Colorado. It's not scabies, but they are like mites and horribly itchy
By SuzieS.
---
Most Recent Answer

By Kim M.07/09/2013
they are called springtail fleas...they are from window sills with moisture and crawl on beds...and they bite!
There are tiny bugs in my home. Against something dark they look white and against something white they look black or brown. They have been biting. I have no idea what they are, do you? Do you know how I can get rid of them? They seem to react to the cold temps.
By Ronda
---
Most Recent Answer

By Kim M.07/09/2013
springfleas!! and they bite!! windowsills...bed and couches!
These bugs are small, black, and pin head sized. They are very hard to even see. Sometimes I see white ones, also. They seem to get in my clothes and bite. My wife doesn't seem to get bitten or says she can't feel anything on her. What's going on? I'm not crazy. I can feel when something is crawling on me and biting me.
By D
---
Most Recent Answer
By Sandi [390]11/30/2011
The next time you see one, try and capture it. You can then put it in a pill bottle till it's dead. Then, if you have a 400x magnifying glass, see what it looks like. Then get on this site

http://www.google.com/search?q=bug+ ... ed=0CCgQsAQ&biw=1024&bih=625

and see if you can identify it. Then, you can see how to eradicate them. PBP
Something keeps biting me when I sit on my couch. They are minute, whitish-to-clear little "balls". Since I can't figure out what they are, I can't figure out what to do about them. I just happened to catch one on my neck this a.m. and squished it. It popped when I compressed it like it was full of liquid. Could they be "no-seeum" bites?
By Martha
---
Most Recent Answer

By Robyn [355]06/09/2011
I would get an attractive cover or a sheet to cover the couch after you get a can of salt from the store and sprinkle it heavily all over the couch, in the corners, under the cushions, everywhere. The reason for the sheet or cover is to not sit on the salt for the two or so days you leave it on the couch. Vacuum the top of the cushions and leave the salt under the cushions. I get the salt out each time I see a flea on a piece of furniture.
I am having trouble with bugs. We have extremely tiny black bugs, compared to coffee grounds and black pepper. Our dog had fleas in the summer, but I think we took care of the problem.
I did notice black stuff inside the air conditioner in the bedroom which when wiped almost looks like the bugs, but thousands all stuck together. There is also a huge patch of grass in the neighbor's yard that is completely dead. Could it come from there? I am not sure if these are fleas or other bugs. You cannot see them move, but can pick them up with tape and get several. They seem to be everywhere.
I have bombed the house 5 times, 4 gallons of different sprays, flea carpet powder, DE, salt and borax, salt and vinegar, and even hairspray.
These do bite. I am afraid to go out or have someone over. It has been about 2 months now. Everything in my house was cleaned with dog shampoo, vinegar, Windex and even bug stuff.
By Murphy from Woodbury, CT
Solutions: Identifying Little Black Biting Bugs
Do you have knowledge about this guide topic? Feel free to share a solution!