Identifying Little Black Biting Bugs
Identifying biting bugs is the first step in trying to eliminate them from your home or to repel them when outdoors. This is a guide about identifying little black biting bugs.
Filter

: All Articles
Sort

: Relevance
I feel very desperate as to how to get rid of these annoying little bugs. First of all, I have to tell you that I am hundred percent sure they are not fleas nor bed bugs. I know this since I have used extensively, bombs and other chemicals, that would have already wiped them out.
Also I collected some samples and showed it to the local bug inspector companies and have been told the same thing. That they are not bed bugs or fleas. What they could tell me was that they could be "black nuisance bugs", but he was not very sure about it.
Let me try to briefly describe them. They live on my clothes and they bite me during day or night. You feel them moving which makes it very hard to fall in sleep. The only solution I could find was to get up and take my clothes off and just shake or pound them to make them fall on a white surface. They actually do fall when you do that. And whey they fall, they do not jump around or move, they just stay put in one place and you can just pick them up and they would still not move on your hand. (I know they are not fleas.) Currently my only solution was to keep vacuuming the house and try to catch them the way I described, but I keep finding them again and again.
Any idea is welcome.
Thanks!
By John E
January 3, 2014
1

found this helpful
Best Answer
You do not say where you live. That might be helpful. I would try to find out what these things are; I have never heard of "black nuisance bugs" - sounds like something this fellow made up to me. Do a search on the internet. Phone your public health office. Contact your Department of Agriculture or a university science department. Are these insects breeding in your home or coming in from outside? These are all things you need to investigate to be able to get rid of them.
Read More Answers...
My RV has got little, biting black bugs. They are not fleas or ticks, but they bite like them. I asked a pet shop owner what he would do. He suggested that I try the original, yellow Listerine. He uses it at his pet shop to kill mites, fleas and ticks. I did, and it works!
I put some in a spray bottle to spray around the RV, on the dog, and on us. Yellow Listerine does not stain fabric nor is it harmful to humans and pets. One has to keep using it for a while because the eggs left hatch into nymphs. They bite too, but the yellow Listerine does kill them all.
Source: Petter Patter Pets
I have reached desperate mode at this point. I live in a apartment (ground level) in Ohio. Since early December 2004, I have been dealing with some type of black flying bug that is about half the size of a tiny pin head - a mere fleck! It has a lot of the characteristics of a no see um. It hides during the day and comes out at night.

The most active hours are between 2:00 and 6:00 am. It bites me under the covers and leaves my body feeling like it has hot prickly bristles on it. It gets in my ears, mouth, eyes and nose while I am trying to sleep. I've resorted to masks, scarves etc., but it somehow gets inside of them. I had an exterminator spray and bomb. He took my samples but couldn't find anything. I know I am not hallucinating because when I stay at other peoples homes I have no problem. I've been in apt. for 2 yrs., carpets have been steam cleaned, no pets and no plants. I never keep trash out or fruit.

This is the distinguishing appearance - these tiny black dots appear to be intertwined in clothing/carpet fuzz. So when people look at my samples they look very hairy/fuzzy and people dismiss them as fuzz! The only thing I can think it may have come from was a box that I bought an artificial xmas tree near the time this started. The box was labeled Japan and was most likely shipped by boat and then stored in a warehouse. Any ideas on a tiny, fuzzy, biting bug possibly from Asia? I'll be happy with any help so I can sleep!

Thank you,
Sarah from Ohio

PS At night it also makes this pinging noise like it's hitting my pillow near my ear.
February 6, 2005
0

found this helpful
Best Answer
This reminded me of a post last year so I started looking:
http://www.thriftyfun.com/tf629910.tip.html
First, I'd wash my bedding with borax. Let it soak a while. Vacuum your mattress, carpets and pillows.
Another suggestion besides an exterminator which it sounds like you have already tried, is using an insect repellent. You might need to try a few different ones to see if any of these are effective so you can at least sleep.
Check with your county extension service or public health department. One way to catch some would be to put a piece of tape, sticky side up when you start to feel them. They sound like they are very small and that would prevent the fuzz from getting in with them.
Best wishes for getting rid of these little critters.
Susan from ThriftyFun
Read More Answers...
What kind of bug do I have that looks like specks of black lint? I find them on my bed and you can not tell if they are bugs they are so small and they are not moving. They bite. I can feel them on me, in my hair, on my face, and on my arms and legs, but I can't see them. What are they and how do I get rid of them? I had fleas so I had my house sprayed. I sprayed and bombed five or six times, but nothing helps. I still have these bugs. I hope someone can help, they are eating me alive. The people that sprayed came back after they got rid of the fleas and said they did not see anything. They even checked for bedbugs.
July 16, 2016
0

found this helpful
Sounds like scabies
Read More Answers...
I have just found these tiny little black bugs in my bedroom. They're all over the skirting boards and I have seen them on my bedside table. I have also just found one in my actual bedding. I have had bites before which I thought were bed bugs, but these little things don't seem to be bed bugs to me. Can anybody possibly help me ID them please? Thanks in advance!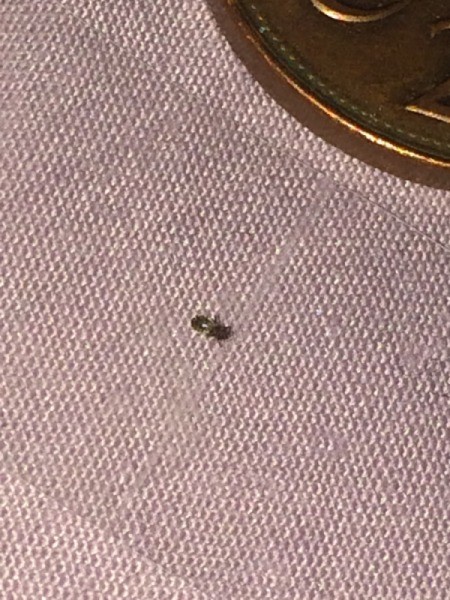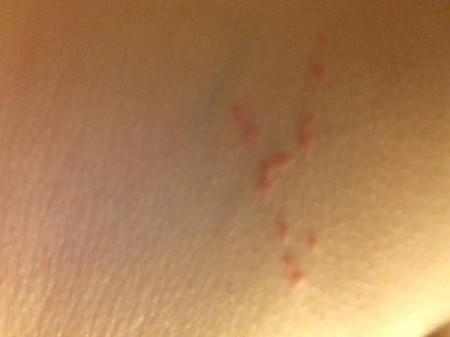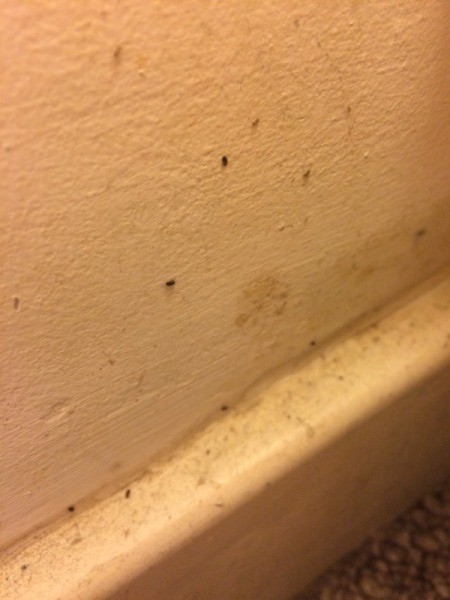 March 26, 2016
0

found this helpful
Those are bedbugs we have had them before, you will need to bomb your apartment house or which ever almost weekly. Wash your bedding on high hot dry on hot as well. Good luck
Read More Answers...
Can someone please help me? I have just moved out of home into a small flat, as I am young you can kind of imagine what my flat is like. It is tidy, but not amazing and I keep finding these bugs everywhere. They are tiny, and when I say tiny I mean tiny, the only way you know they are on you is if you feel them tickling your skin and you have a close look.
My flat mate and I have both noticed them on the couch a lot and that seems to be where they all go. This couch is from my flat mate's father and was in his shed and was cleaned before we got it so I don't think they can keep coming from there as I have scrubbed and vacuumed it heaps.
I really hate bugs and have great pride in keeping my house clean so as you can probably tell I am getting sick and tired of these bugs. I'm not sure if they bite, I think they might do and just leave a small mark. They are black and not round at all they are more long and slight squirmy, but so very very tiny. They are everywhere, we have already tried bombs and fly spray. Someone please help me.
By Tara B
January 6, 2015
0

found this helpful
These may be flour weevils. They come into your home in any flour product. To get rid of them, get rid of any flour based product that is older than 6 months. They should be gone in a couple of weeks.
Read More Answers...
Only very recently I have bites on my ankles almost like mossie bites and they leave a tiny pink spots (like mossie bite after they stop itching). Today I caught them on me, it's black very tiny. You can barely see them. There are ones a bit bigger, like black pepper sprinkles, and there's a few of them I captured. Then they disappeared, I do not see anymore. I need to know if it's related to pets (unlike fleas when captured they snap when squashed these don't) or carpet pests. Would pesticide kill these bugs? I have never seen these bugs. Could they also be coming from plants soil?
Kind regards.
Thank you.
By Julie
October 7, 2014
0

found this helpful
I have the same exact problem. Bites on my ankles and other numerous places. The bug sounds extremely familiar. I'm struggling a lot and have cleaned this whole house and I'm getting bitten everyday. I'm desperate for help, did you find any solution?
Read More Answers...
I am having trouble with bugs. We have extremely tiny black bugs, compared to coffee grounds and black pepper. Our dog had fleas in the summer, but I think we took care of the problem.
I did notice black stuff inside the air conditioner in the bedroom which when wiped almost looks like the bugs, but thousands all stuck together. There is also a huge patch of grass in the neighbor's yard that is completely dead. Could it come from there? I am not sure if these are fleas or other bugs. You cannot see them move, but can pick them up with tape and get several. They seem to be everywhere.
I have bombed the house 5 times, 4 gallons of different sprays, flea carpet powder, DE, salt and borax, salt and vinegar, and even hairspray.
These do bite. I am afraid to go out or have someone over. It has been about 2 months now. Everything in my house was cleaned with dog shampoo, vinegar, Windex and even bug stuff.
By Murphy from Woodbury, CT
June 27, 2016
0

found this helpful
Noone will probably read this as its an old post but what the heck.
Well sounds like what I used to have, especially the sand feeling on your hands when using hand sanitizer. I had biRd mites in my house.
Dr's and bug people will say they don't bite people but that's bull.
Freezing them does not work. I froze some pillows for 3 months and when I used them I got eaten alive.
I went a little nuts trying to get rid of them. Freezing stuff, boiling my clothes, ironing everything I owned including undies. Put diotomicious(sp?) Earth everywhere. All that did was make a real mess.
The way i finally got rid of them was to get rid of any furnture that was fabric, they can live in that. You could cover it in plastic. I turned the water heater up to 195 for wsshing clothes. And moped all the walls and ceiling down with tea tree oil and eucalyptus oil. Then i covrred my self in a thick laver of vaseline and rubbed it all over then kept doing that about an hour adding vaseline ss needed. I did that a couple times. The bug need to bresth and they cant breath through vaselineAlso soaked in epson salt. It took a couple months but i dont have anymore bugs. Im loving this, with the bugs i wss almost donr with life. Hope this helps
Read More Answers...
For a while, I've been getting a bunch of bites all over my body and they itch a lot. I think I have over 50 now. I searched through my bed and found tiny black dot looking bugs. When I crushed it blood came out. What are they? Bed bugs, fleas? I also have a cat and he had fleas.
By Grace
July 12, 2016
0

found this helpful
Try (ECO SMART, home pest control) which has Clove Oil, Peppermint Oil, and I can't think of the other 3. It comes in a gallon white jug with a Lime green Pump sprayer. It doesn't say it KILLS BEDBUGS, but they HATE IT, as for fleas (I ran out when our problems started).
I worked and lived in a shelter and used this on mattresses for 5 years. It works! It repels as well as kills on contact very important. It's the peppermint, cloves in it that bed bugs can't stand (they will literally crawl away from it). If there are not fleas or springtails who are signs of a leaking pipe probably inside the walls.
I have the Same thing, I thought they were fleas, because when u treat a Floor or Carpet they tend to cling to the baseboard to escape the chemical.
Read More Answers...
We found a small group of bugs in our office, size is 1/4"very tiny like hair, they are moving too. They are at one of our glass counters. What can we do?
By Naiery
March 7, 2015
0

found this helpful
I agree with the previous poster. Spray them with Raid!
Read More Answers...
What are these little black bugs crawling in my bed and coming from outside my window? They are small and black and there's a thousand of them just by the window and on my curtains and bed.
By Tiffani
October 27, 2014
0

found this helpful
If they are coming in from outside, and there are thousands getting into your bed, I'd say it is time for Raid! What difference does it make what they are?
Read More Answers...
Every time I go to my room or the bathroom some bugs bite me. I can't see them, they fly, and when they bite me they leave a little red mark. Please help me it's starting to get aggravating.
By Josh
April 1, 2015
0

found this helpful
It is difficult to identify the bug without more information such as your city and state, house or apartment, any plants in the home and how old is the home? It is also possible that the flying bugs are not the ones that bite you.
You can try a smoke bomb as they are effective for flying insects. However, if you do not know the source of the bugs, they will just hatch and continue.
Something keeps biting me when I sit on my couch. They are minute, whitish-to-clear little "balls". Since I can't figure out what they are, I can't figure out what to do about them. I just happened to catch one on my neck this a.m. and squished it. It popped when I compressed it like it was full of liquid. Could they be "no-seeum" bites?
By Martha
June 9, 2011
1

found this helpful
I would get an attractive cover or a sheet to cover the couch after you get a can of salt from the store and sprinkle it heavily all over the couch, in the corners, under the cushions, everywhere. The reason for the sheet or cover is to not sit on the salt for the two or so days you leave it on the couch. Vacuum the top of the cushions and leave the salt under the cushions. I get the salt out each time I see a flea on a piece of furniture.
Read More Answers...
© 1997-2016 by Cumuli, Inc. All Rights Reserved. Published by
ThriftyFun
.
Page
generated on July 27, 2016 at 1:06:30 PM on 10.0.2.79 in 988 msecs. Use of this web site constitutes acceptance of ThriftyFun's
Disclaimer
and
Privacy Policy
. If you have any problems or suggestions feel free to
Contact Us
.